Using an open CTI, Client Instant Access built a system to integrate with Salesforce Call Center to allow for "one click" dialing to all Salesforce pages (Accounts, Contacts. Service Tickets, etc.) There is no need for additional list creation. Users have the ability to create and drop a pre-recorded message to a voicemail box. All calls are reported in Salesforce and include important data points such as time of call, length of call, a "live answer" notation and the name of message left. Users can write notes after a call and the information is saved in the Salesforce records.
The seamless integration of Candi in the Salesforce sidebar means that the rich functionality that users have come to expect from Client Instant Access remains intact. Candi is among our most intuitive applications and our clients have reported enormous satisfaction with the tools it provides. And because Candi is SOC 2 Certified, it can be used in multiple fields, including health care, finance, law and education.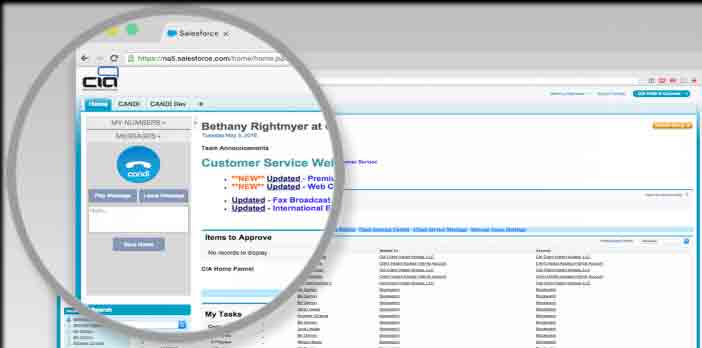 How to operate CIA's Integrated CRM Dialer
1. Add your number to connect
My Number, select the plus sign to add the number where the system will call you.
• To add a new number, select , + . 9734874457. For international: enter the number
starting with international call prefix + country code + phone number, e.g.
011442079999999
• To remove select X
• Select "Call Me" to connect your phone to the system. You will see the following popup:
2. Recording a message(s)
Add a Message Label, select the • sign and follow the prompts to record your message.
When you have finished recording your message please click the red telephone button so all
messages are available for use. Please note: the system will call your line first and then start
the countdown to recording the message.
Replaying message by selecting >  Deleting the message by selecting X.
3. Calling a contact
Select the contact you want to call, click on the number. If the system is already connected it will call
the contact immediately. If you have not connected yet, the system will call your line first and then dial
the contact number.
Call options:
When calling a contact the options are as follows:
Live Answer:
If you reach a client live, you may talk to them then select  [red Phone icon ] to hang up once conversation
is completed. Select [ Save Notes icon ] to Add notes that will then log under the activity area under that
contact.
Play Message:
When the client's voice mail greeting ends, recite your personal comment then select
[ Play Message icon ] and your recording will drop seamlessly after your personal comment.
Leave Message:
If you reach your clients voice mail, select [ Leave Message icon ] while the outbound greeting is in progress.
Please Note: To disconnect the system, once you are finish making your calls, hang up your phone.